You are viewing the article Amanda Seyfried Talks Working With Tom Holland on 'The Crowded Room' and Their "Profound Bond" In the Show  at ttbdct-bencau.edu.vn you can quickly access the necessary information in the table of contents of the article below.
When it was announced that Amanda Seyfried and Tom Holland would be starring together in the upcoming series 'The Crowded Room', audiences around the world were filled with excitement and anticipation. Both incredibly talented actors in their own right, the prospect of seeing them collaborate on screen was nothing short of thrilling. Little did we know that their work on the show would not only create a mesmerizing performance, but also form a profound bond between the two.
From their very first scene together, their chemistry was undeniable. Amanda Seyfried, known for her ability to dive deep into her character's emotions, found a true partner in Tom Holland, who exudes authenticity and vulnerability in every role he takes on. As they brought their characters to life in 'The Crowded Room', it became clear that this was a match made in acting heaven.
But what is it about their collaboration that makes it so special? It goes beyond their immense talent and undeniable on-screen presence. It's their commitment to the craft, their dedication to telling these complex stories, and their shared love for the art of acting that truly shines through.
In an interview, Amanda Seyfried shared her thoughts on working with Tom Holland and the unique bond they developed on set. She described their connection as profound, a deep understanding of each other's process and a mutual respect that elevated their performances to new heights. They were able to support and challenge each other, push boundaries and explore the depths of their characters' emotions in ways they hadn't experienced before.
'The Crowded Room' is not just a psychological thriller based on a true story; it's also a testament to the power of collaboration and the magic that can happen when two incredible actors come together. As audiences, we can only wait in eager anticipation to witness the result of their exceptional teamwork.
In the end, it is this profound bond between Amanda Seyfried and Tom Holland that sets 'The Crowded Room' apart from other shows. It is their dedication to their craft, their undeniable chemistry, and their shared passion for storytelling that will undoubtedly make this series an unforgettable experience for viewers around the world.
Now streaming on Apple TV+ is another quality miniseries to binge with The Crowded Room, starring and produced by Tom Holland. Ahead of the series premiere, Collider's Steve Weintraub chatted with costar Amanda Seyfriend to find out what it was about writer and executive producer Akiva Goldsman's adaptation that most appealed to her and her experience working opposite Holland.
The Crowded Room is a psychological crime drama inspired by a novel by author Daniel Keyes. In the series, viewers watch as Danny Sullivan's (Holland) life begins to unravel through a series of interviews with Seyfried's character, interrogator Rya Goodwin, who she describes as "highly ambitious and trying not to let the patriarchy bury her." Though not much has been revealed regarding the plot, the actress does believe that Danny is "definitely probably going to be the hardest role" the Spider-Man: No Way Home star has ever tackled. The show also stars Emmy Rossum, Will Chase, Thomas Sadoski, and Sasha Lane.
In their interview, which you can watch or read below, Seyfried breaks down why she was "in awe" of this opportunity and what convinced her this was the next project she wanted to join. We learn how long The Crowded Room has been in the works, why Holland was such an exciting scene partner, as well as what to look out for in the opening credits.
COLLIDER: I've seen the whole series, and I really want to say congratulations, you did such great work.
AMANDA SEYFRIED: Thank you.
I know you're offered a lot of projects and I know a lot of scripts come across the desk…what was it about this one though, besides the fact that it's a fantastic role, what was it about this that said, "Oh my God, I need to do this?"
SEYFRIED: Well, it shot in New York, so I was like, "One point for this show!" And I binged the scripts. I went through them very quickly. I'm a slow reader. In fact, I've been known to not read a script, and I went through them. I read them all, and I thought, "These were amazing." And then I had a conversation with Akiva [Goldsman], and I thought it was nice that I was playing somebody, a very realistic woman in the '70s, who's trying to balance work and being a single mother, and trying to be as present as she can with her kid, but is highly ambitious and trying not to let the patriarchy bury her. I just love the way she was written. I was very in awe of that.
And I thought it was really impressive that Tom Holland took this role because it's definitely probably going to be the hardest role he's ever played, and he's lucky, and the show is lucky that he brought it into fruition, finally, after like 30 years of being the idea of this show. You know, it's real because of Apple TV+, and I felt like all the pieces were in place for something to be new for me, like something new and something different.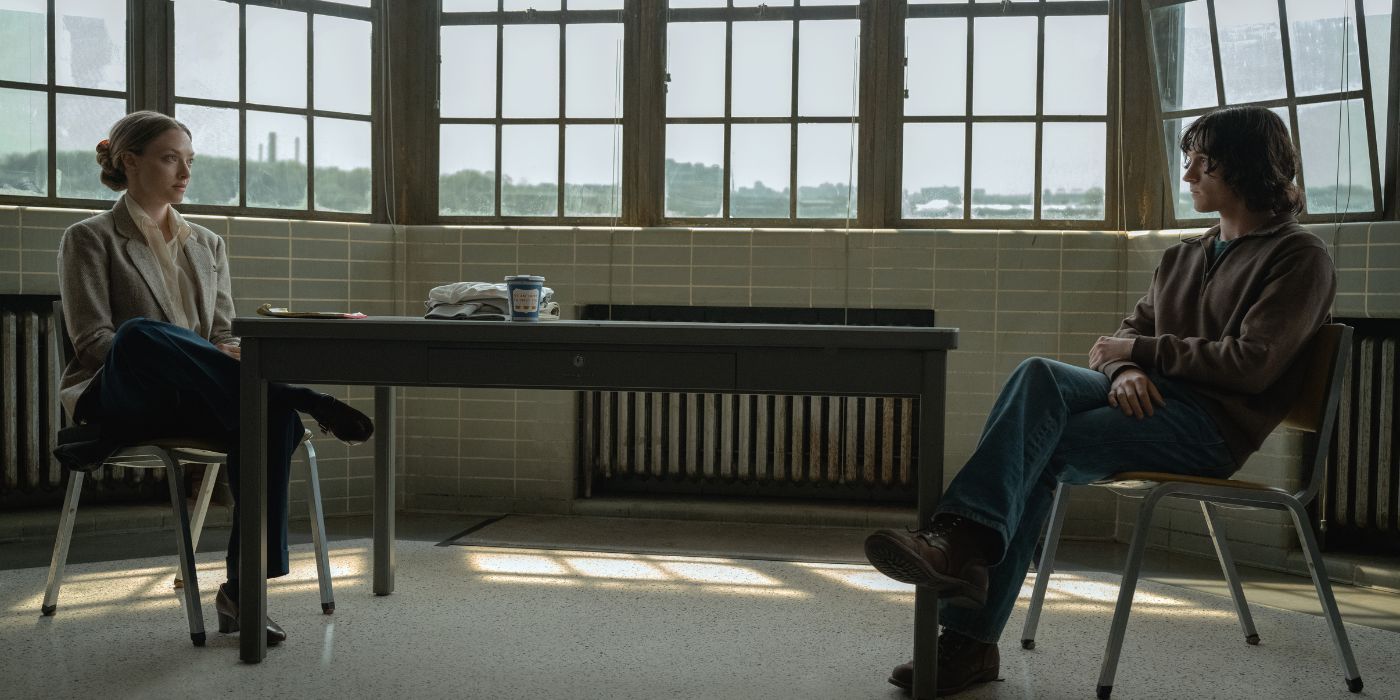 Sure. This show doesn't work without you and Tom. Tom is clearly giving it his all, so what was it like doing those scenes with him when he's clearly giving everything he has?
SEYFRIED: It was fun because I didn't know exactly what he was going to do when more would be revealed, I didn't know how he was going to react. We had done so much rehearsal and talking about the process of the progression of these two characters, and how they came to trust each other, and the gentleness with which Rya handles Danny, and the warmth with which he melts into this space is really profound. It's a profound bond, and it ends up saving both of them really, that connection. And we had fun between takes, and then towards the end of the show, when things started unraveling and twisting up a little bit, and new people would emerge in the story, it was so fun to watch because I'm an actor who's… I can do only so much, and then the other person has to express what their character is supposed to express. I don't know how to describe it, it was exciting. I've never been through that before where I just didn't know how someone was going to react, and it was at times unnerving. Like, we're making this really good show, and he's going there. It was great.
Yeah, I already have to stop–
SEYFRIED: Sorry, I have to stop! Everytime, sorry.
[Laughs] No, I was just going to say the finale is excellent. It's really good.
SEYFRIED: Do you think it brings it around?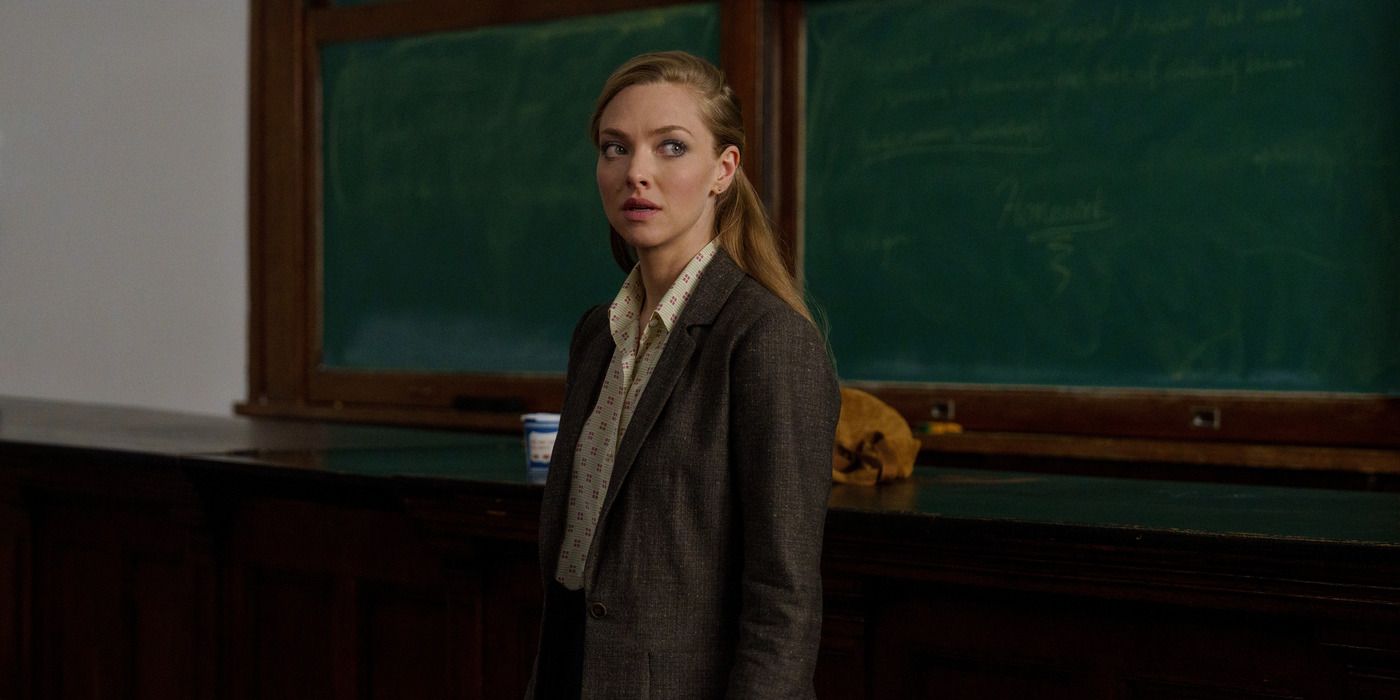 I do, and I really enjoy the opening credits now, after the finale.
SEYFRIED: [Winks] Right. Little Easter eggs in those credits. Pay attention to the credits.
The Crowded Room premieres on June 9 only on Apple TV+. Check out Collider's interview with Tom Holland below.
In conclusion, Amanda Seyfried's discussion about working with Tom Holland on the upcoming series "The Crowded Room" highlights the profound bond they developed while working together. The chemistry and connection between Seyfried and Holland, as they portray characters dealing with mental health issues, adds an extra layer of authenticity to the show. Seyfried's admiration for Holland's talent and professionalism further emphasizes the depth of their bond. It is evident that the collaboration between these two actors will be a significant factor in the success of "The Crowded Room," as they bring their unique perspectives and skills to create a compelling and realistic portrayal of mental health struggles. As viewers, we can eagerly anticipate witnessing the profound bond Seyfried and Holland share in the show and its impact on the overall narrative.
Thank you for reading this post Amanda Seyfried Talks Working With Tom Holland on 'The Crowded Room' and Their "Profound Bond" In the Show at ttbdct-bencau.edu.vn You can comment, see more related articles below and hope to help you with interesting information.
Source: https://collider.com/amanda-seyfried-the-crowded-room-interview/